Tree peony Leda
Paeonia lutea hybrid "Leda". The petals of this large soft pink flower are laced with burgundy red veins that gather in the heart of the flower. The yellow stamens form a striking contrast against the dark centre.
A beautiful tree peony with neatly presented symmetrical fragrant flowers. Sturdy stems clad in healthy foliage add grandeur to this already beautiful peony. Flowers may be used in exclusive bouquets and arrangements. In Greek mythology Leda is the Queen of Sparta and mother of the twins Castor and Pollux.
APS Gold Medal 2014.
Registered in 1977.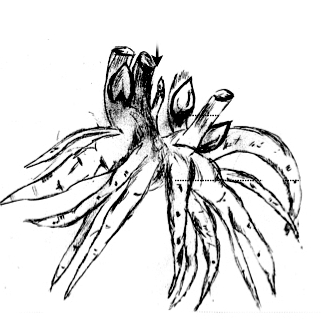 Quality roots with 3/5 eyes directly from our 3-year old fields.
The new harvest can be ordered from February 2020 for delivery from October 2020.
Peony Details
Data sheet
| | |
| --- | --- |
| Colour Palette | From pink to magenta |
| Flowering Period | From Week 2 | Early |
| Flower form | Semi-double |
| Height | e| Over 100 cm | 40" |
| Fragrance | Softly scented |
| Flower Bud(s) | One main flower bud and some sidebuds |
| Usage | Landscape peony |