Peony Scrumdidleyumptious
Paeonia Itoh "Scrumdidleyumpious". A new intersectional hybrid. The semi-double and double flowers show a playful mix of creme undertones graced with subtle pink veins.
The flowering season is extended by several lateral buds, which in time produce lovely double flowers. The appealing dark green foliage keeps clean until the first frost. 
Its intriguing name refers to Willy Wonka's chocolate luring children's story, for all its abundance of flowers and alluring scent. Scrumdidleyumptious is a wonderful garden plant and our first introduction of a new generation of Intersectional peonies by Donald R. Smith.
Registered in 2002.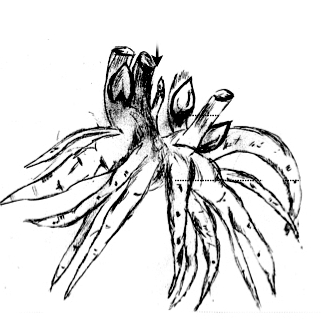 Quality roots with 3/5 eyes directly from our 3-year old fields.
The new harvest can be ordered from February 1st for delivery from October onwards.
Peony Details
Data sheet
| | |
| --- | --- |
| Colour Palette | From yellow to coral |
| Flowering Period | From Week 4 | Mid |
| Flower form | Double |
| Height | c| 60 to 80 cm | 24" to 32" |
| Fragrance | Intensely fragrant |
| Flower Bud(s) | One main flower bud and some sidebuds |
| Usage | Landscape peony |
| Position & Soil | Sunny and airy - soil well worked and not soggy |
| Hardiness | Fully hardy -20ºC or more depending on snow cover |