Peony Al's Choice
Paeonia Itoh "Al's Choice". An Itoh peony, with a twist. Selected by Allan Rogers, auteur of "Peonies" having more than 60 years of peony experience and growing peonies from his childhood. A taller variety with a spreading habit, thus giving away its strong growing potential. The flowers are tender yellow with a few paintbrushes of red and magenta.
A tuft of stamens circle the prominent green white tipped carpels. Flowers open consecutively assuring a long flowering season. Like most Itohs this variety does not require any staking and the foliage is an asset for your garden until the first frost arrives. 
Registered in 2004.

Our shipping season is closed. Delivery in the EU.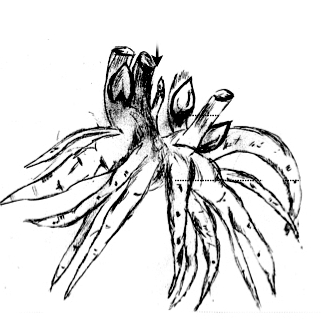 Quality roots with 3/5 eyes directly from our 3-year old fields.
The new harvest can be ordered from February 1st for delivery from October onwards.
Peony Details
Data sheet
| | |
| --- | --- |
| Colour Palette | From yellow to coral |
| Flowering Period | From Week 5 | Late |
| Flower form | Semi-double |
| Plant size | d| ↕︎ up to 90 cm | ↔︎ up to 90 cm |
| Flower Bud(s) | One main flower bud and some sidebuds |
| Usage | Landscape peony |
| Position & Soil | Sunny and airy - soil well worked and not soggy |
| Hardiness | Fully hardy -20ºC or more depending on snow cover |