Description
Paeonia herbaceous hybrid "Bob". This sought-after peony has one of the darkest red tones, almost black. Bob was awarded the American Peony Society Best in Show at the 2011 convention in Portland. Thérèse of brooks gardens literally grabbed it as a last-minute entry for the competition and won gold, Bob got eternal glory! Generally, the flowers are bomb type, however it is possible to have semi-double and bomb type flowers on the same bush at the same time. The large flowers are softly scented and stems are strong. 
Registered in 1998.
Peony Details
Properties
Colour palette

Reds

Flowering period

From week 2 | Early

Flower form

Japanese

Plant size

d| ↕︎ up to 90 cm | ↔︎ up to 90 cm

Fragrance

Softly scented

Flower bud(s)

One main flower bud

Award

Other awards

Ideal for

The cutting garden
The landscape garden - no support

Position & soil

Sunny and airy - soil well worked and not soggy

Hardiness

Fully hardy -20ºC or depending on snow cover
You might also like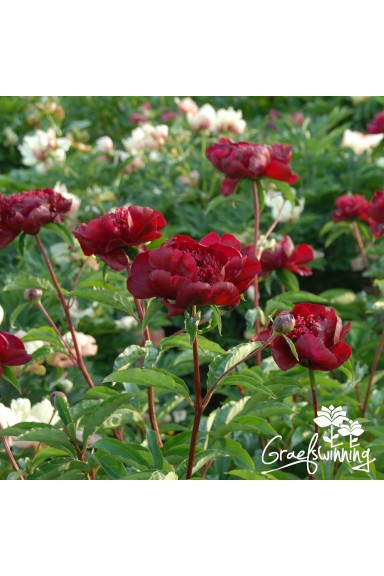 This variety is not available.