Description
Paeonia lactiflora 'Pink Spinners'. A cosmic blend of cream and raspberry in a very unconventional flower. The petals are slightly twisted around a centre of pollen-bearing stamens. A vigorous grower with dark green leaves. Bee friendly. A peony for the adventurous gardener!
Registered in 2003.
Photos and text © Graefswinning 2023
Peony Details
Properties
Colour palette

Bi-colour
White & blush

Flowering period

From week 4 | Mid

Flower form

Single

Plant size

b| ↕︎ up to 50 cm | ↔︎ up to 50 cm

Flower bud(s)

One main flower bud

Ideal for

The bee garden
The landscape garden - no support

Position & soil

Sunny and airy - soil well worked and not soggy

Hardiness

Fully hardy -20ºC or depending on snow cover
You might also like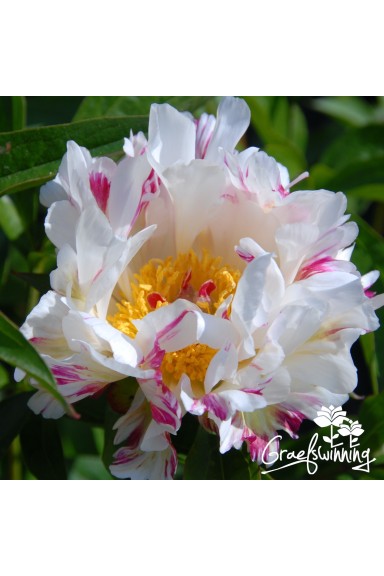 This variety is not available.
This variety is not available.